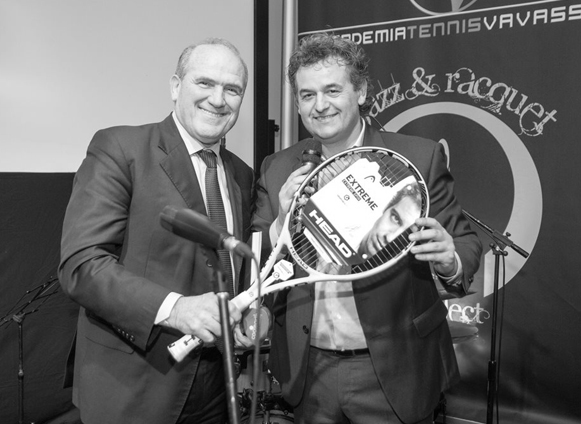 "Jazz & Racquet Project is the musical festival promoted by Renato Vavassori strongly convinced that
«Art, music and sport improve the emotional sensitivity of the individual»."
Jazz & Racquet Project is the musical review desired by Renato Vavassori and entrusted to the care of New York singer Joyce E. Yuille as artistic director.
Renato Vavassori, a great lover of this kind of music, however, studied as a boy, it is certain that between Jazz and Tennis there is a certain liaison, as he explains:
"Tennis is a sport of situation. The tennis player always hits the ball in a new and different situation; with the increasing speed of play, the tennis player must also know how to improvise. For this reason tennis is similar to Jazz ".
The goal of this project can be summed up with the words of Wynton Marsalis in the preface of his book Moving To Higher Ground: How Jazz Can Change Your Life: "It's not just music, jazz. It is also a way of being in the world, and a way of being with others. At the heart of his "philosophy" are the uniqueness and potential of each individual, but united with his ability to listen to others and improvise with them.
It was created by the descendants of slaves, but knows how to talk about freedom. It is the son of the melancholy of the blues, but knows how to let go to the purest happiness. Its roots are in tradition, but its challenge is continuous innovation. And even if it lives in harmonic and rhythmic tensions, it has known and still knows how to be a messenger of peace… I hope to convey the positive message of America's greatest music. I would like to show how the mutual respect and trust that the best musicians prove on stage can change your vision of the world and enrich every aspect of your life, from individual creativity to interpersonal relationships, to the way of conducting business, to understanding what what it means to be a global citizen in the most modern sense ".
From 2010 to today, Jazz & Racquet Project has been a regular appointment of the Vavassori Tennis Academy where meetings, concerts and debates have been held, always welcomed by the public and the protagonists.
The latest editions of the Jazz & Racquet Project have seen increasing public participation thanks not only to the professional value of the musicians involved, but also to the social motivations that have driven the organization.
In fact, Jazz & Racquet Project has been linked to the Nadia Valsecchi Foundation involved in the search for medical treatment for pancreatic diseases. The proceeds collected in the last editions of the Jazz & Racquet Project were, therefore, donated to the Valsecchi Foundation with a view to further developed emotional sensitivity.