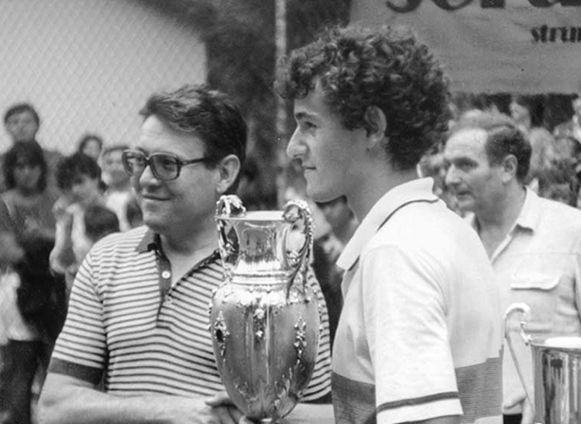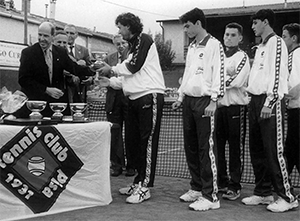 National Technician F.I.T. Professional P.T.R. – Director General of the Academy
Born in Palazzolo sull'Oglio in 1965, Renato Vavassori had a brilliant career as a professional first and then as a technician, arriving in 1992 to found the Tennis Academy that bears his name.
Competitive Career
Youth activity: winner Under-18 tournament in Verona (I.T.F. world circuit)

Best world ranking: 314 ATP

Best national ranking A No. 13 operational ranking

Best player of category B year 1988

He played the Italian Serie A team for 6 years
Experiences as a technician
2 Italian titles and 3 "Final Four", as captain of the T.C. Bolzano in the Italian Serie A Championship

Tennis School Director Merano (from 1989 to 1992)

Responsible for the Technical Sector of Trentino Alto Adige (from 1990 to 1991)

Head of the Technical Sector of Lombardy (from 1998 to 2003 and from 2005 to 2006 – Vittoria Coppa Belardinelli)

Coach of professional players such as Claudio Pistolesi, Omar Camporese, Marlene Weingartner and Margotto, Bertolini, Gasbarri, Ardinghi, Bruno, Meneschincheri

Assistant technician of the National Youth representatives of the F.I.T., both in the Panatta management and in that of Tomáš Šmíd.

National Captain U18 in the Valerio Cup with Galimberti and Tarallo

National Team U18 in the World Team Junior Cup in Wiesbaden

Representative Captain U16 European Championships in Brussels (1995)

Member of the staff of Adriano Panatta in the "Adriano Panatta Tennis Lessons Tour" Project

Member of the "Tennis 2000 Project" of the F.I.T.

Responsible for the Tennis Sector of "Bergamo Sport" Municipality of Bergamo (from 2004 to 2005)

Current Head of the Tennis Sector of "Milano Sport", Municipality of Milan

National Team U18 in the "European Junior Challenge 2007", a qualified team at the world stage that took place in Auckland in February 2007

Coach of the year P.T.R. in 2005 and 2007

CIP Regional Technical Referent for the discipline of wheelchair tennis in 2009

ITF representative in Jordan, December 2017
"When I was very young I really wanted to emerge; everyone said that I had sports talent both in football and tennis, but I never found a mentalized and professional environment and not even a real mentor! (…) I'm sure that if another Vavassori was found within our system, we would certainly find a way to help him express his full potential ".